FROM ROME AIRPORT TO SALERNO,
THE BEST WAYS
Have you wisely decided on Salerno as your city in which to stay for your daily trips along the Amalfi Coast? Would you rather sleep in Salerno than in Sorrento in order to visit Pompeii, Herculaneum and Paestum?
Salerno is a city full of surprises where you will breathe a typical and authentic Italian atmosphere and at the same time it deserves to be lived in and visited.
Here, we will tell you how to get to Salerno from the international Airport of Rome. The airport is located in Fiumicino.
Private transfer
Certainly the most comfortable way is a private transfer service with minivan.
Contrary to what you might think, this option is not expensive. It can really be the best solution after a long and tiring Intercontinental flight. Please do not hesitate to inquire about how to do it and the costs. For info write to info@salernocentro.it and we will provide you with the best assistance possible!
Train
From the international Terminal "Leonardo da Vinci" (Fiumicino) The easiest choice is the train.
Within the most important Roman airport and named after the Illustrious "Leonardo da Vinci" there is a small railway station. It connects the international Airport of Rome (not to be confused with the other airport "Ciampino") to the train station "Roma Termini" via the train called the "Leonardo Express". The service is non-stop and the departures take place every 15 minutes (in some periods every 30 minutes). The journey is only 32 minutes.
When you arrive at "Roma Termini", you need to change trains to reach Salerno. From Roma Termini Station you can decide to travel to Salerno with Trenitalia or Italotreno.
Both companies offer high-speed trains which arrive in two hours (or even less) in Salerno. I suggest you exclude the solutions that specify a train change in Naples. Regarding Trenitalia, avoid the train called "intercity", it travels on different tracks than those of high speed and can sometimes be slow.
The level of travel comfort between Trenitalia and Italotreno is more or less the same and if you buy the ticket in advance you can have access to the lowest rates. So choose the fast train!
Here you will find links where you can check the timetables and buy tickets. The first link also concerns the Leonardo Express:
If you stay at the Bed and Breakfast Salerno Centro, on request and availability, I would be delighted to offer you a free transfer from Salerno train station to our B&B.
Have a nice trip!

Contact us
Blog

"Hello, my name is Francesco! Choose "Salerno Centro" Bed & Breakfast, stay in the vibrant and beautiful center of Salerno! We will give you our best care and attention to experience our area like a local!"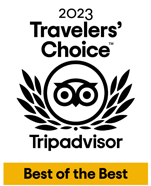 This website uses cookies to provide services and to perform statistical analysis completely anonymous. For more details read the the Privacy Policy of Automattic. Automattic is the company which manages the wordpress platform, where the website salernocentro.it is implanted.
Read here